The Child Life Therapy Program at Randall Children's Hospital
Molly's funding supports The Child Life Therapy Program at Randall Children's Hospital. The Child Life Therapy Program helps children cope with hospitalization and pain through play. Child Life Therapists are trained in the area of play and emotional support for children. They work closely with children and families, using a variety of techniques and services - such as music, animals and horticulture - to help minimize the stress of a hospital experience. Molly's money ensures they have the funds they need when their budget falls short.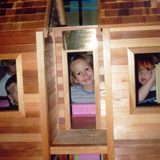 Randall Children's Hospital Pediatric Holiday Party
The Molly Thompson Memorial Fund guarantees that Randall Children's Hospital can host its annual Pediatric Holiday Party for all the patients who have become hospitalized that year.
Every year, Randall Children's Hospital serves thousands of children and their families. Children who battle cancer and other life-threatening illnesses, children burned, in accidents, managing chronic illness or genetic concerns. Children who need emotional and physical support in addition to medicine. Children who live everyday with armor, fighting to be a kid.
So... we celebrate with them! Every December, the children who spent time hospitalized come together with their families and PARTY! Breakfast with Santa, a real DJ and music, Mrs. Clause, local community heroes, dancers, staff and volunteers lead the children through the transformed Magic Wonderland at Randall Children's Hospital.
But the real magic happens as new friendships are formed. Parents, who find their lives "different" from the rest, meet others like them. Children, who don't have the privilege of "normalcy" all of a sudden, are the majority. Lasting alliances are formed and they become stronger- together. Our Annual Holiday Party has become so much more than sitting on Santa's lap for a toy. We are proud and thankful to our supporters for allowing the magic to grow and continue.
Stock the Playroom with "Kid Stuff"
Molly's fund stocks the playrooms with toys, books, videos and craft supplies so that children can get away from their hospital rooms and enjoy "kid stuff". It ensures that every child who is admitted into RCH receives a special toy that accompanies them throughout their stay.
There are 9 floors at Randall Children's Hospital and we make sure everyone is full of activities, art, books, toys, games and fun.  They are also full of children battling cancer, facing surgery, healing from burns, recovering from trauma and learning to live with life changing conditions.  And they are fighting to be kids, even when hospitalized.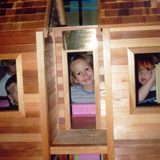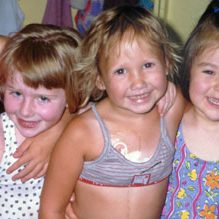 The Children's Garden
When Molly was battling cancer, we spent quiet moments along the paths of the Children's Garden. The flowers were bulbs, the shrubs- just babies and the trees barely reached our shoulders. It was too young to attract birds and butterflies- a few of Molly's favorite things, so Molly decided the garden needed a bird house and pretty stepping stones to invite birds and butterflies. The birdhouse was placed, it bears her name and Molly patiently taught her hospital friends how to make stepping stones out of concrete and small treasures. Today the garden has grown, the trees tower above, providing shade, butterflies dance all around, birds sing and the stepping stones can still be found, placed in between the magical forest.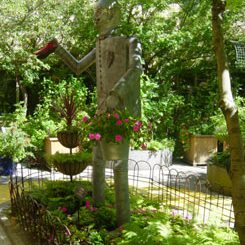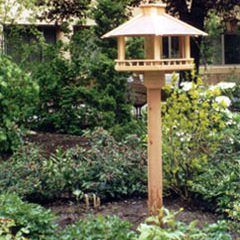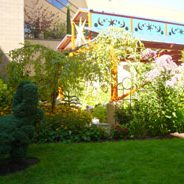 Granting Wishes
Molly's fund grants wishes that fall through the cracks, simple things that may fall through the cracks.
Every once in a while, a child needs a little extra suport. Many wishing organizations grant one wish, others will grant a second, but sometimes a child's need goes beyond. Molly's fund allows The Childlife Specialists to reach out and offer support to a child who simply needs something else. Our wishes are simple; a puppy, a computer, concert tickets, a game boy or a spa day with grandma. Shown here is Carlito's and family receiving his wish for his own TV and Game Cube with "lots" of games.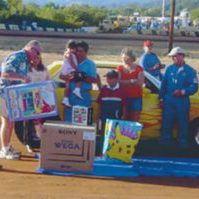 The Sensory Cart
Molly's fund brought the Sensory Cart to the pediatric floor of Randall Children's Hospital.
A special mobile unit that is designed to help children with sensory integrative problems to improve body awareness, movement, balance, relaxation, recovery and can stimulate physical, mental and social skills. This multi-sensory cart can be wheeled bed side and aids children in rehab, ICU, NICU, oncology, surgery recovery and isolation. This innovative tool helps children heal, it distracts them from their fear and pain and it has changed the way RCH serves its children.
This mulit-sensory cart distracts children from their fear and pain and helps them heal. Shown here is Jen, a Childlife Specialist with one of her patients using the fiber-optic "rain shower"